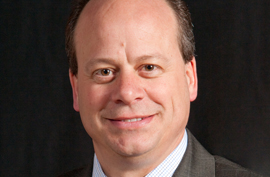 PETER M. STADLER, PE
Senior Vice President
Contact Peter
Education
BS – Civil Engineering (Structural Emphasis), Iowa State University
Professional Affiliations
Licensed Engineer – Illinois
Licensed Engineer – Wisconsin

Mr. Stadler, as Senior Vice President, is responsible for overseeing the design and construction process, coordinating the day-to-day activities that make each project a success. As a member of Meridian's Executive Team, he is responsible for the development of new projects and works closely with clients to ensure their needs are met throughout the planning, design, and construction stages.
Mr. Stadler works with a team of Project Managers and Engineers to ensure that all aspects of each project are handled in a seamless and professional manner. He has personally been involved in planning, design, construction, and successful occupancy of more than 40 facilities with a total square footage in excess of 13.7 million square feet. He also has experience coordinating the design, permitting, and construction of infrastructure projects involving municipal utility extensions, detention facilities, floodplain reconfigurations, and roadway construction.
Prior to joining Meridian, Mr. Stadler worked in design and construction management positions at various firms throughout the Midwest.